How Twitter Reveals What You Should Do With Your Life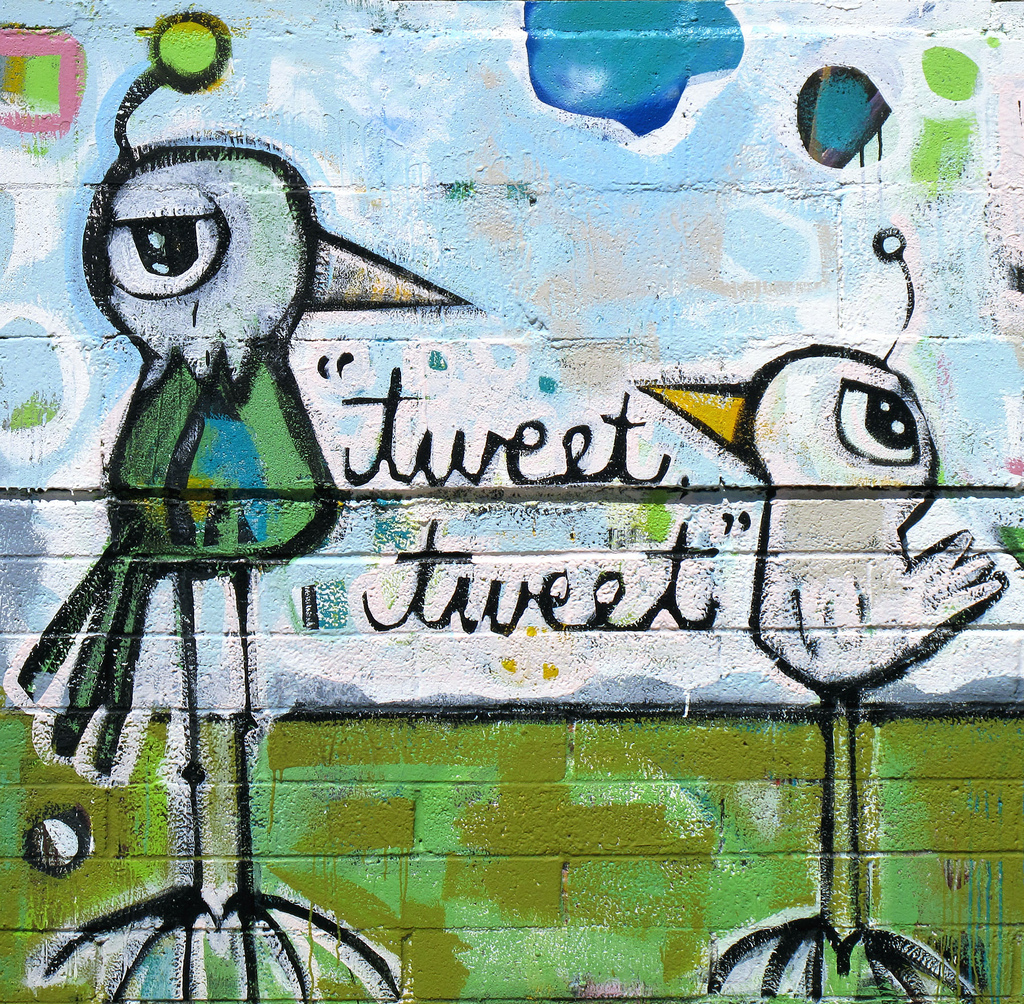 Raise your hand if you're in a quarterlife crisis.
My whole fuggin heart goes out to you, hand-raiser. I'm recovering from my own four-month-long quarterlife crisis [edited 5/23: LOLZ just kidding the crisis wasn't over and resurfaced in full-force soon after this post published. I'm annoyed every time I see the "four-month-long" part…], during which I woke up every morning feeling frustrated and totally lost about my career…and life. It blows, and I'm here for you.
If you didn't raise your hand, but you feel twinges of that nagging "What am I really supposed to be when I grow up?/What is my purpose?" feeling (who doesn't?), I'm still talking to you here.
And if you already know exactly what you're meant to do, I hope you're at least 80 years old. Otherwise, that's so unfair, and you're putting me in a bad mood.
Pay Attention to What You're Not Paying Attention To
It occurred to me a couple weeks ago as I browsed my Twitter feed (follow me! I'll follow you.) that the social network can really provide some insight into the direction you should take your career.
I want you to try something: Next time you're on Twitter, try to actively make mental (or actual) note of the tweets you find yourself either completely ignoring or just skimming. As you scroll through your feed, there are probably tweets you naturally pause to read, and others you kind of blow over consistently–who are these tweets from? Both categories–who's tweeting stuff you're genuinely interested in, and who's talking about crap you honestly don't care about?
Using myself as an example, I found I was always subconsciously ignoring tweets from marketers and marketing agencies. This is my field, so I've loaded up my "Following" list with reputable sources to keep myself in-the-know….except I don't actually give a shit. I don't work in social media, so when I'm on Twitter, I'm not working. And when I'm not working, I don't care about marketing.
I was, however, paying attention to anyone talking about wellness, personal development, and writing. Topics like nutrition and fitness, career, lifestyle, freelance writing, blogging–that's the stuff I was reading. That's the stuff I was clicking on.
Now, I had already realized weeks before that marketing clashed with my personality. (My mom was actually the first to point it out, and the event was part of the beginning of my plummet into quarterlife crisis. And yes, ironically, Marketing is an area sometimes recommended for INFJs because it fits with some of our personalities. But not my version, I guess.) But I still had doubts. I still wanted to cling to this industry because it was where my experience was–I was terrified of admitting the years of experience I had were in the wrong (for me) field.
But man, concluding that all the shared articles and tips and ideas about marketing totally did NOT get me excited really confirmed the mismatch, and I knew my decision to switch gears, do some research and exploration, and create a new career plan was the right one.
Be Honest With Yourself About Who You'd Love to Follow
Back to the exercise.
Taking this a step further, I want you to now consider the types of Twitter accounts you'd love to follow, but don't for one reason or another. To use myself as an example again, a couple years ago, I realized I was filling my life with information I only wanted to be interested in.
I'd play the news on TV in the background in my apartment, and I limited my online reading to current events-related stories only. But I kind of had to force myself to pay attention to this stuff. Because it's totally not me.
What was me (back then) was girly stuff. I cared about makeup and manicures and hair dye way more than I did the news. But I didn't allow myself to get involved in that world, because I was trying to be interested in more "serious" topics–I was trying to be someone I'm not.
I eventually said fuck it, quit seeking information that didn't sound cool to me, and started embracing my true preferences.
And I started following like 800 "girly" Twitter accounts.
Delete, Add, Do Big Thangs
Alright guys, it's time to clean up that list. For the next week or so, start deleting every Twitter account whose tweets you find yourself ignoring. Next (or simultaneously), start following accounts for the sole reason that their tweets interest you, no matter the topic. (If you're unsure what you even care about–it's possible, we lie to ourselves a lot–consider the blogs you follow, websites you frequent, movies you watch, books you read, etc. Or at least those you want to.)
When you get your list into better shape, dive in and notice the water–doesn't this feel so much better? Aren't you finding you're really digging what your tweeps are talking about, and that these are conversations you actually want to engage in?
Now, consider: What does all this say about you? What kinds of businesses and people and topics jive with your personality? Imagine your "Following" list is someone's you don't know, and that you're trying to figure out what they're about and what they do for a living by analyzing who they follow. Develop a description of this person, and be really, really honest with yourself: Is this the real you?
And if you were giving this person career advice, what would you tell them to do?
K. Go do that.
***
Discuss
Is your Twitter feed consistent with who you really are? Have you ever noticed yourself trying to care about things that actually don't matter to you? Has anything else helped you determine where to go with your career?
Liked this post? Maybe sign up for email updates. Cool bye.