What You Need to Accept to Get Your Ass to the Gym Consistently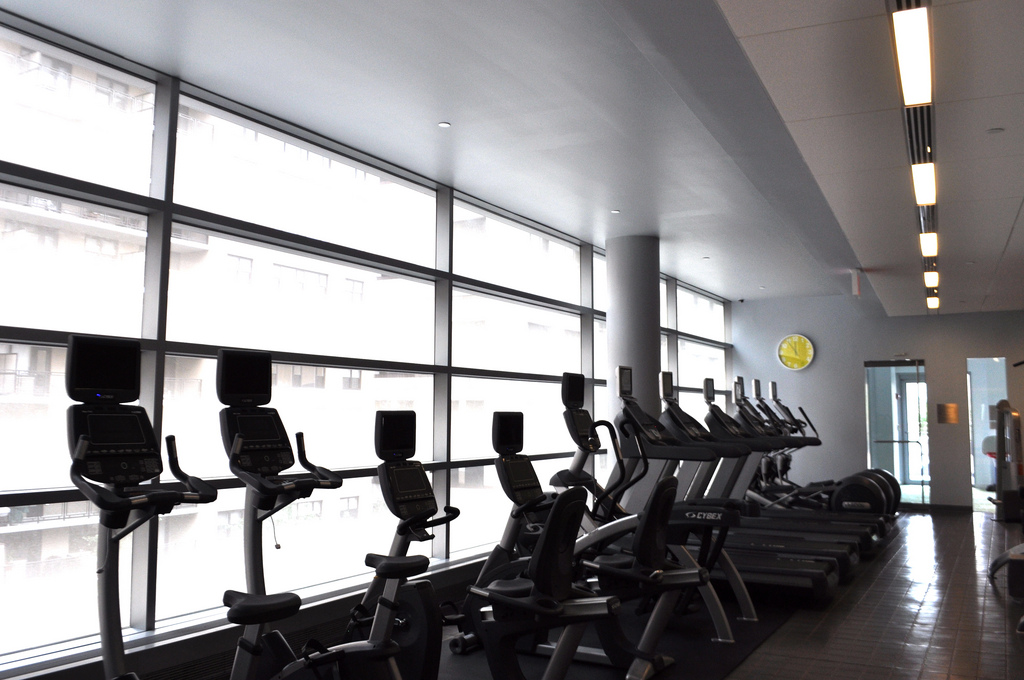 Those who know me in real life know the gym is my happy place. I swear working out must be like what taking drugs is like: glorious. The combination of music and endorphins simultaneously puts me in a blissed-out and take-over-the-world frame of mind, which it seems like only a highly illegal substance would be able to do.
If I'm in a really shitty mood, exercising nearly erases it. If I'm already in relatively good spirits, working out makes me feel like high-fiving everyone I see for the rest of the day. I am always so happy I went to the gym.
But here's the thing: Nine times out of ten, I don't want to go at all.
Everyone Thinks I Heart the Gym, But I Heart My Computer More
People assume I would work out all day if I could. "Wow you guys live next door to LifeTime Fitness? I bet Cassie is in heaven!" "Oh hey! A boot camp! Cassie, I bet you'd love that, right?!"  "Oh, here's the gym. This is Cassie's favorite place, eh?"
(all real examples)
These comments aren't off the mark; I'm a total gym rat. And I do love it. But that's only true after 18 minutes into my workout (my personal threshold for going from "just do this, Cassie" to "EFF YEAH YOU GUYS THIS FEELS GREAT WOOOOOOOO!") .
The truth is, what I'd actually like to do all day is read. My laptop is my bestie (I've fallen asleep on the couch snuggling it more than a few times), and I could lose days consuming content. I prefer to exercise my brain.
But I work out at least 4 days a week, every week. I am consistent. This is for one reason.
Don't Wait to Want to Work Out; Accept That You Don't Feel Like It and Go Anyway
I don't decide whether to go to the gym based on if I want to go. Actually, I usually don't decide at all. I just go. I change into my workout clothes not really feelin' it, I grab my phone and keys grumpily, and I head toward the gym thinking about how this sounds like the most anti-fun thing I could do right now.
And if you've worked out even just a single time in your life, you know how the rest of this story goes: I warm up and get some music going, and I start feeling good, and I keep going and all the sudden I'm on top of the world and exercise is the best thing ever and I never want to stop and I can't believe I was dreading this and I make a mental note to remember this feeling tomorrow.
Sometimes I remember it, sometimes I don't. But it never really helps either way. When it comes time to hit the gym, I'm already sitting, I'm already on my computer, and, god, I just want to stay there just like that.
But instead, I accept that feeling, get my stuff, and go. Because I know on some level I'm going to love it, and I know I'm going to love having done it. I just can't get myself to feel that way when I'm at my desk.
Schedule Your Workout at a Low-Resistance Time
I've been a morning, lunchtime, and after-work exerciser at different times in the past. Certain times have worked better for me than others with varying work schedules and priorities, but I can tell you my after-work phase is when I exercised the least. I had all day to make excuses and rationalize not hitting the gym, plus that's the point in the day I'm the most tired. I bailed all the time.
Mornings are my most energetic, productive, creative, and focused time of day. That's a big reason I tried the after-work thing; I wanted to give my best self completely to work. But I soon realized if I didn't go in the morning, I wouldn't go at all. I'm already an early riser, so it was a matter of making peace with the fact that part of my most effective time of day would be spent in the gym. Not working out at all isn't an option.
I now work remotely, so lunchtime workouts fit beautifully into my day. (I'm not what you would call "fast" at getting ready, so a mid-day workout + shower + makeup + hair + travel time situation was never realistic for me. Now, my gym is a one-minute walk away, and all I need to do post-exercise is get clean.) I get to crank out great work all morning, then hit the gym when I still have plenty of physical energy, but the mental stamina is starting to fade.
The point is, plan to exercise when you're least likely to skip. Experts often recommend mornings, and I mostly agree with them (for once), but consider your own natural preferences to choose your time. For example, my boyfriend John would rather shoot himself in the face than get up early to exercise. But after work, he's a ball of freaking energy (and I'm like, "John, I am SO TIRED NO I DON'T WANT TO DO THAT FUN THING YOU'RE SUGGESTING."). So exercising after work makes sense for him.
Plan to go at your ideal time, but expect to feel like not going at all.
And then go anyway.
***
Discuss
Do you have trouble exercising regularly? When's your best workout time? What helps you make it to the gym?
Liked this post? Maybe sign up for email updates. Cool bye.