What Love Feels Like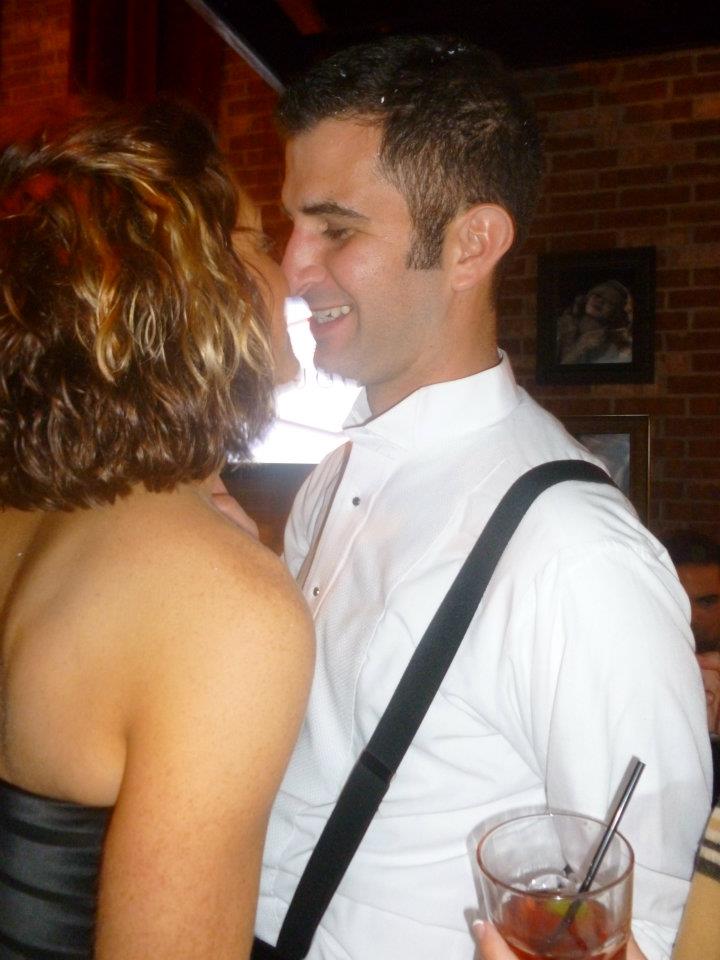 I'm taking a break from the usual badassery today to share something a little more personal. I hope you enjoy. Happy Valentine's Day!
***
John is the first guy I ever said "I love you" to. He's the first guy I've ever loved, and the first one I've ever been in love with.
John is not my type (or at least what I thought my type was). He is not the kind of guy typical of my dating history. I met him, and then I kept wanting to hang out with him, and I kept wanting his attention, and I had no idea why. I still don't.
It was just love. That's the only explanation.
I am in awe of the fact that I'm in love with him every single day. That's not poetry; that's the truth. Every day, I am completely blown away that this person is in my life. Before meeting John, I had accepted that being single forever was a very real possibility for me (not in a sad way; I was OK with it. It was simply a consequence of refusing to settle, and that was acceptable to me.).
I was also constantly annoyed by couples. It all seemed lame (Oh, just staying in tonight, huh? Awesome. You guys are fun.) and weird (How do you talk to a boy about stuff I thought only girlfriends talked about?) and as if paired-up people were letting go of their independence (Don't you guys get sick of each other? Don't you have goals and dreams that don't involve him?). I was turned off by all of it.
And then I met John, and was like, oh…I get it now.
I've been wanting to put my thoughts on love in writing (because that's what I do–put thoughts in writing) for a while now. Because, as I said, I'm still in awe. This feeling is the true definition of awesome. This is incredible.
This is what love feels like.
It Feels Impossible
The emotion is so powerful that it's hard for me to believe any other person in this world feels it, too. I think to myself all the time, there's just no way. There is no way there are other people out there who are feeling this, because we'd all be nuts. This is a crazy feeling, and we'd all be a bunch of crazies walking around all the time. We'd all be just gazing into each other's eyes non-stop saying, "How did I think I was so happy before you?"
It feels like it can disrupt everything. It feels impossible.
It Feels Overwhelming
Love feels so big. And it's a weird experience to be filled up with this big emotion you didn't even know you were capable of having. When John has a set-back in life, it feels like my heart is breaking for him. When he returns home from a trip, my world lights up–no, actually, that happens when he returns home from work. How can another person affect me so much?
It feels like a force you can't control. It feels overwhelming.
It Feels Unbelievable
I am amazed that I'm in love. It shocks me continuously that another person is so important to me, and makes my life so much better. But what's truly difficult to fathom is that he feels the same way. Not only is there another human being on this planet experiencing this huge feeling, but he's experiencing it for me. This blows my mind.
It feels like a situation your brain can't process. It feels unbelievable.
It Feels Unconditional
A couple of months into our relationship, John and I we were shopping together. I couldn't get into it because I felt–and more importantly, looked–exhausted. And when you look like hell, you don't want to be in front of mirrors. I tried to explain this to him on the ride home, and he tried to explain something to me: he didn't see any of that. He looked at me and saw beautiful. I wouldn't have believed him, except I realized as he talked that I could definitely say the same thing–no matter what he thought he looked like, he always looked great to me.
It feels like no matter what, he'll always love you. It feels unconditional.
***
Discuss
How would you describe love? What does it feel like to you?
Liked this post? Maybe sign up for email updates. Cool bye.